---
Home
|
Cards
|
( 2 )
|
Subscribe
Posted by
Felix Okoli
on Tuesday June 9, 2015 at 14:7:53: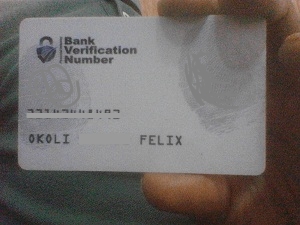 I was one of the first people to register for the Bank Verification Number (BVN) at my bank and so when I went to my bank a few months later and wanted to deposit money, I was requested to first get a B.V.N. Since I did not remember my number, I had to visit the BVN registration section just to get the number and after that, I was equally told that my BVN card was ready for collection and I equally collected that too.I'm not sure what the BVN card would be used for in the future and the only thing I know that the Bank Verification Number would be used for is to create a central database for banks which will allow the banks and CBN to know their customers more closely and know things like customers with multiple bank accounts since biometric details like fingerprints would hardly lie.Well, the BVN is becoming a compulsory thing now in Nigeria and there has been a deadline for it for a while which is already ending. Customers without a Bank Verification number may not be able to do bank transactions until they do it. With a BVN, I'm sure it would be easy for the CBN to do things like restrict access to forex through card products such as Mastercard or Visa and hence fully enforce the spending limits for customers. It may also make it easy to track customers with bad loans and be able to protect other banks from giving loans to people who may want already have a bad record within the system.Unlike in the past when Nigerian could open multiple bank accounts and probably inflate the number of the banked, a Bank Verification Number would identify a single customer with multiple bank accounts as a single banked customer irrespective of the number of bank account he operates.I think the banks have been really helpful in creating a biometric database which the government may even use in the future. The process is free and convenient for Nigerian customers. I do hope that in future elections, rather than waste money again in trying to create a new database or print ID cards for elections which will still not be evenly distributed, Nigeria's electoral commission would rather sub-contract the job to banks or just use their existing database with the CBN.Nigerian banks could in the future be used to develop a more reliable database for Nigerian citizens and help in generating and issuing things like National ID cards, Voter's cards and so on and it would really save the government more money.Anyway, I got my BVN card recently and it contains my full names, my bank verification number and an impression of my finger print.
---
Comments:
Re: My BVN Card
Reply by Dr Obi Marizu on Wednesday June 17, 2015 at 10:7:59: "My BVN" written by Okoli made an interesting reading to watchers of the Nigerian banks. What is BVN. BVN is the bank verifier number. It is used by banks to verify or authenticate the customer's identity when carrying out online banking transaction, for example making payment. This system is not new in online banking world and has nothing to do with your other banking activities. The customers generate their BVN and use it individually. The basic benefit of BVN is to protect the customers against online banking fraud and not to monitor the customers on how many bank account accounts they have and how credit worthy they are by the bank/Central Bank, CBN.The idea that the BVN, when implemented will help INEC to articulate voter's card cannot be sustained when you consider how many Nigerians of voting age hold BVN.
The fear is that the Nigerian banks will manipulate the use of BVN to something else as they are currently manipulating Transaction Alert (SMS or Email) introduced by the Central Bank. The banks make thousands of millions of Naira billing customers between N8 and N28 every month for both sent and none sent alert. Transaction Alert is used when a bank suspects irregular activity in your account and will send you alert to confirm if you carried any transaction in your account. It is tailored on money going out of your account and not when money comes into your account i.e. payments, savings interest or tax deducted. Transaction alert is not compulsory anywhere in the world. It is amazing that the Human Right Organisations in Nigeria are saying nothing about the violations of Fundamental Rights of Nigerians via forcefully taking their biometric details and transaction alert by the banks.
---
Re: My BVN Card
Reply by Gee on Sunday June 14, 2015 at 14:2:23: Hi Felix, thanks for this info about BVN card. Can I ask you one question? If someone has accounts with several Nigerian banks, does he/she have to get separate BVN card from each of those banks? Thanks for your time and effort at educating us.
---
Re: My BVN Card
Reply by Felix Okoli on Sunday June 14, 2015 at 14:2:23: No, you only need one BVN for all bank accounts.
---
Re: My BVN Card
Reply by PROMISE NENEEBARI on Sunday July 12, 2015 at 22:7:30: I LOVE THE BANK
---
Re: My BVN Card
Reply by Dawuda on Tuesday April 18, 2017 at 21:44:53: Do banks still issue BVN cards?Not heard of it before today.
---
Re: My BVN Card
Reply by Telly Atake Nana on Tuesday May 30, 2017 at 13:44:56: I had my bvn number for two years now. But only went last week
to Fcmb where I registered for the bvn. I was told that till now my card is not yet ready. Even without checking their system. what do I do to get my card?
---
Recent Posts